Academia Executive Editor and UST Office of Public Affairs Director, Assoc. Prof. Giovanna Villarama Fontanilla, passed away on December 6, 2020 at the UST Hospital. She was 62.
Fontanilla, an English major, graduated Magna cum Laude from the UST College of Education in 1979, and began her 41-year career as a teacher in the University after graduation. Her leadership manifesting, she was easily picked to serve the College of Education as College Secretary, and eventually, as a University administrator. Her first appointment as Director of then-Public and Alumni Affairs Office was in 1990, a position that she served until 2000. Part of the Director's functions is to serve as executive editor of the Academia, the official international bulletin of the University.
In 1994, armed with a Master's degree in Educational Technology from UP which she obtained in 1982, Fontanilla was tasked to head the UST Educational Technology Center. She was its first director, a position that she served until 1999.
From 2000 to 2006, Fontanilla had a respite from the Office of Public and Alumni Affairs after she was assigned to be the Executive Assistant of the Secretary-General. However, as the preparations for the UST quadricentennial in 2011 were getting closer, Fontanilla's expertise in organizing events, strong media relations, and close relationships with the alumni was once again needed on a University level, prompting her re-assignment to the Public and Alumni Affairs Office (PAAO) in 2006, four years before the quadricentennial.
Realizing the increasing responsibilities and functions of the PAAO, Fontanilla recommended that the two offices be separated, so that an office exclusively dedicated to the needs of the alumni, whose presence must be greatly felt in the 2011 celebrations will be created. Thus, when classes opened in June 2007, two offices were introduced to the Thomasian community, each with its specific role: the Office for Alumni Relations took care of the alumni, and the Office of Public Affairs took care of branding, events management, public information, and media relations which were all necessary in ensuring a successful quadricentennial celebration.
Numerous activities, programs and projects were undertaken by the Office of Public Affairs. Partners have included the diplomatic corps, professional organizations, advocacy groups, educational institutions, LGUs, among others. Strong relations with the church hierarchy has always been a top priority. The media had always been a strong partner in numerous activities.
These relationships, and a lot more may be considered as part of Dr. Fontanilla's legacy to the Thomasian community.
"Legacy. What is a legacy? It's planting seeds in a garden you'll never get to see."
This line from the final soliloquy of Alexander Hamilton in the hit 2015 musical 'Hamilton' encapsulates the concept of legacy as a life's worth of work, ideas, and lessons cared for and gifted to the future.
Fontanilla's contributions, her legacies to the University, were recalled by Dominican Fathers who were former heads of offices with which she has had the chance to work, during the Masses that were offered in memorial of her life and service to the University.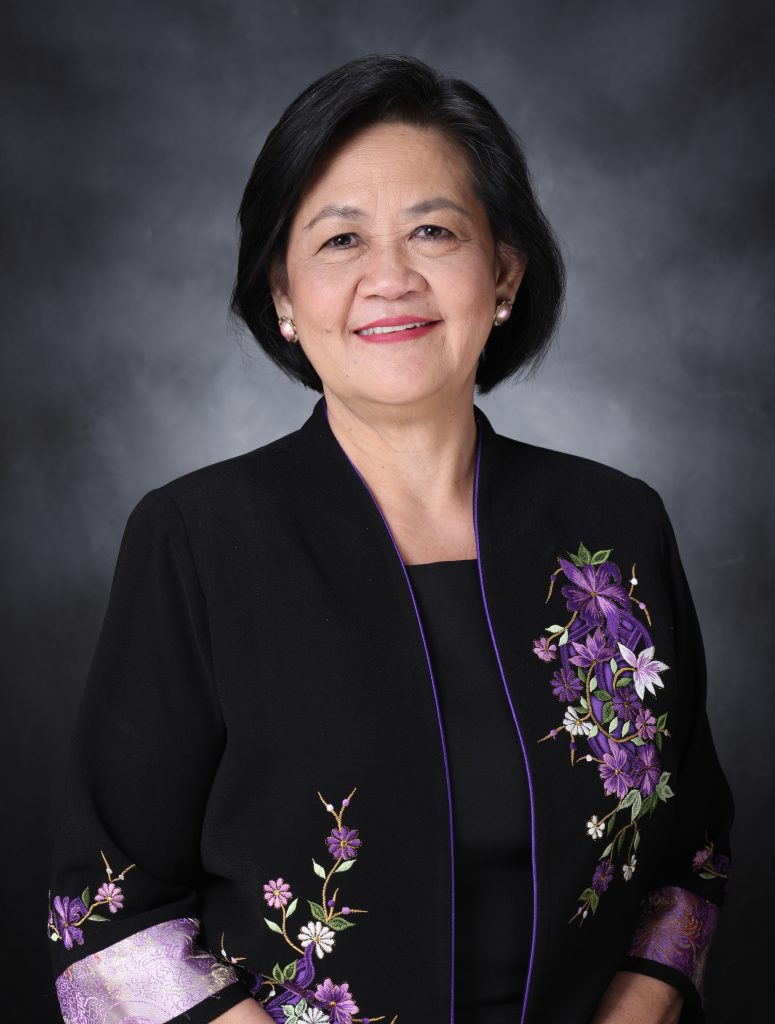 The first day of the wake for Fontanilla was held at the lobby of the Paredes Bldg., known to be the venue of events organized by the Office of Public Affairs, which she headed until her untimely demise. It was held on December 8, the feast day of the Immaculate Conception. It is a known fact that the late administrator was a devotee of the Blessed Mother.
From the time that her remains arrived, Dominican Fathers took turns in blessing her remains, the first of which was conducted by the Vice Rector for Religious Affairs Rev. Fr. Pablo Tiong, O.P. Even secular priests with whom Fontanilla has had the chance to work came to perform a blessing for the departed. The memorial Mass was celebrated by Rev. Fr. Roland Mactal, O.P., who in his homily shared stories of friendship and service.
Administrative and academic officials, faculty members, researchers, support staff, and former students visited in batches to pay their last respects to the long-time face of UST in media. Dominican Fathers also presided private Masses, with the final one — celebrated at 10:00 in the morning of December 9 — broadcasted by the Santisimo Rosario Parish Church on its official Facebook page.
Ma'am Giovanna, or Ma'am GVF, as she was called fondly, was blessed to see that some of the seeds she planted had borne fruit during her 41 years of service. From the very first Thomasian Welcome Walk in 2002 — then called the 'Rites of Passage' — turning into a core tradition that is essentially tied to the true Thomasian experience; the grandiose evolution of the UST Paskuhan in 1991 from a simple Panunuluyan to a big event that draws crowds of tens of thousands people in campus for bands, special guests, and the awaited pyrotechnical display; her well-organized helming of the 1995 Visit of Pope John Paul II to UST as part of the World Youth Day celebrations, and of the 2015 Visit of Pope Francis, these were but a few sprouts from her very prolific garden — the high-impact results of her ideas and plans.
In a Mass celebrated earlier at 9:00 in the morning on December 9 by UST Secretary-General Rev. Fr. Jesús M. Miranda, Jr., O.P., for offices under the Office of the Secretary-General, which includes the Office of Public Affairs, he emphasized that Ma'am Giovanna "embodied UST's three Cs of competence, commitment, and compassion." He also added another C to stand for "confidence." Particularly, he thanked her for relentlessly building the positive image of UST, aided by her bright personality and quickness to give encouraging compliments, and "her excellent service to the University."
In the online Mass held on the same day presided by Acting Rector Rev. Fr. Isaias Tiongco, O.P., concelebrated by the Dominican Fathers, the homilist was former Rector Rev. Fr. Rolando V. de la Rosa, O.P.. He was the Rector who first appointed her to an administrative position and has worked closely with her over the decades. Fr. de la Rosa recalled her "impeccable work ethic", "her seemingly limitless energy," and her "unique[ness]," even sharing that she once rejected an offer to work in Rome after she impressed Vatican officials with her organization skills, which were evident in the Papal Visit of St. Pope John Paul II. "She said, 'I feel more at home in UST and I can't leave my family to work abroad,'" he said. He also shared that the Saint-Pope was so grateful to Fontanilla that he hugged her — a moment immortalized in the photo book "A Sea of Blessings."
"In her short life, she served the University well and showed others what love really means," reflected Fr. de la Rosa.
In the same online Mass, current UST Museum Director Fr. Isidro Abaño, O.P., delivered a eulogy for his former executive assistant when he was then-Secretary-General.
"There is so much to thank her for. She practically donated her entire life to the University," said Fr. Abaño, giving Dr. Fontanilla credit for many initiatives that shaped the modern Thomasian sense of identity, such as the very first Paskuhan, the Thomasian Welcome Walk, the UST Crime Watch, the Job Fair, the USTv Awards, the Christmas Gala, the Ambassadors' Night, the Papal Visits, and the Quadricentennial Celebration, adding that the iconic "UST @ 400", emblazoned on limited edition Philippine Peso bills and other merchandise, was one such brainchild.
Fr. Abaño even proposed that the UST Educational Technology Center, which she served as its first Director, be named after her – "Giovanna V. Fontanilla EdTech Center" — saying that, "To thank her merely with words is a shortcoming," he said.
Fontanilla, as director of the Office of Public Affairs, was also an active lead in organizing the visits of Her Majesty Queen Sofia of Spain in 2012, and Her Royal Highness Princess Maha Chakri Sirindhorn of the Kingdom of Thailand in 2019, and countless high-profile University events including the conferment of the honorary professorship title to Former President of Poland Lech Wałęsa and Nobel Laureate Mario Vargas Llosa.
From her external partnerships and networks also stemmed the Vice Presidential and Senatorial debates with CNN, and the Media Leadership lectures with representatives from ABS-CBN and GMA all hosted by the University.
It is incalculable exactly how much the seeds she planted have affected and formed Thomasian life and culture as they exist today, and as such, Fr. Abaño thanked Fontanilla's children, JC and IC — both Thomasians — for sharing their mother with the University. He assured them of the University's constant gratitude.
As history has shown, legacy building is a journey, not a destination. Her part may have ended, but her love for UST — manifested in her many creations and contributions — will live on, carried out by her mentees, by her team, and by those who love and look up to her. After all, her lessons were not just taught; more importantly, they were learned and they are being lived out.