After a few years of holding the event online, the Faculty of Arts and Letters' St. Thomas More Lecture Series returned on-site for its 55th edition last March 22, 2023, at the UST Medicine Auditorium, with Rev. Fr. Nicanor Pier Giorgio Austriaco, O.P. as the honored guest.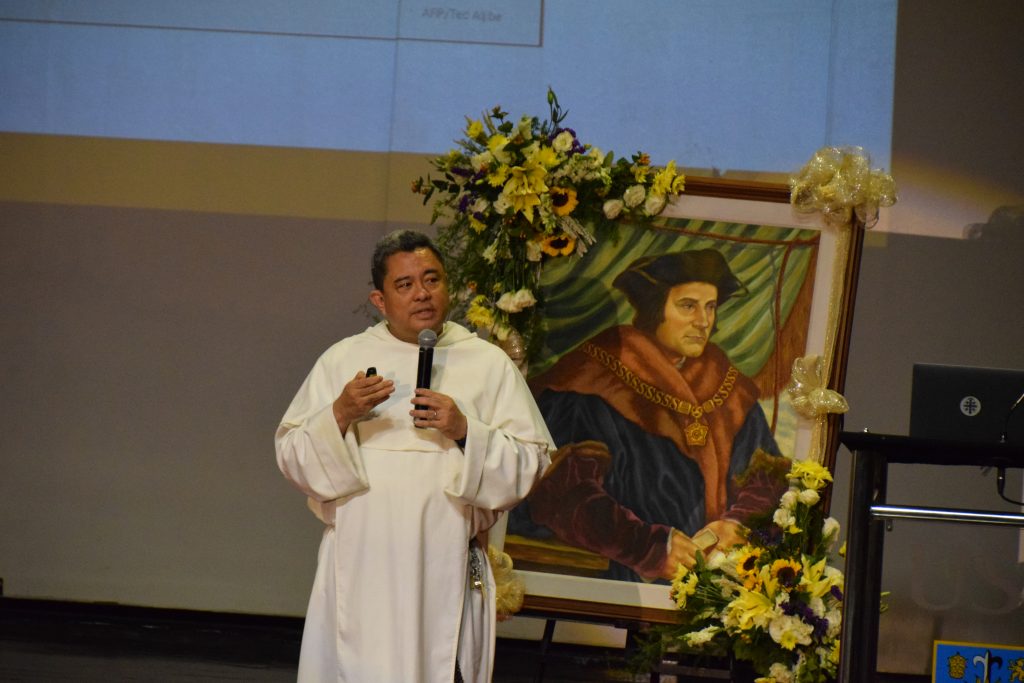 The current and previous administrations of the college, its faculty members, and students were present during the event.

During his talk titled "Living A Life of Moral Integrity In A Culture of Corruption," the molecular biologist, who is a moral theologian as well, attempted to lay down the possible roots and examples of this exploitation in Filipino society. He even proposed a potential definition of corruption since, according to Austriaco, only the acts deemed corrupted make up the definition. He added that as individuals, Filipinos tend to articulate the common good for why people do things a certain way. He then gave examples of delineating this with individual good in the different professions.

Central to this discussion is the Filipinos' view on the family and how this supposed basic unit of society, when not appropriately ordered within a person's priority, could lead to a disposition for corruption, which is the case in most local government units that are ruled only by a particular family. Even if corruption is more apparent in government transactions, Austriaco underscored that tracing its origins was meant to examine the individual's capacity to prevent this from happening in their immediate surroundings, no matter the duty. He added that this initial study is not yet meant for policy or law-making.

According to the Dominican priest, he had encountered corruption and mitigation of various offices when he returned to the country recently to establish a world-class laboratory for a yeast-based COVID-19 medication.

In trying to extract why the Filipinos still lean towards corruptible acts, in addition to what Austriaco cited from University of Maryland professor Robert Nelson's paper that the Spanish and Catholic colonial past of the country is a factor for having this "culture," he mentioned that there are deep psychological inclinations in each individual. Naming pakikisama (sense of belongingness), hiya (shame), and utang na loob (debt of gratitude) as some of the Filipino characteristics that bring intense emotions that could lead to prioritizing the wrong kind of good in a given situation.
Fr. Austriaco believed that this would be challenging for the Filipino to forget or put aside the family or any close-knit group because of the strong familial sense. He related this with St. Thomas More's famous last words, "I die the king's good servant, but God's first," that the Filipino will be martyred for this.
As a priest, Austriaco emphasized that giving in to these inclinations is an act of forgetting God and the common good and leads to hurting the poorest of the poor.
The audience, which includes students from the Political Science and Behavioral Science programs, among others, raised their questions and reactions on the effects and uses of this study for good governance in the future.
The St. Thomas More Lecture Series was first envisioned by Ophelia Alcantara Dimalanta and Piedad Guinto Rosales, literature stalwarts of the University, to honor the patron saint of the Faculty of Arts and Letters in 1968. Since then, trailblazers in different fields like university presidents, business and industry leaders, clergy members, national artists, supreme court justices, senators, a vice president, and two Philippine presidents have graced the event to speak about the most critical issues of the time.
This year's edition of the lecture series is not just a return to form for the college but a way of gearing up to celebrate its 60th founding anniversary.