Three Bachelor of Arts in Economics students of the Faculty of Arts and Letters attended the 2nd Asia Pacific Youth Exchange (APYE) in South Korea from August 8 to 20, 2018. Charisma Aclan, Daniel Ian Dimitui, and Beneah Gineth Gorospe, who are in their fourth year, applied to the said program on their own initiative and were accepted as delegates, giving them the opportunity to be part of the two-week intensive program of APYE.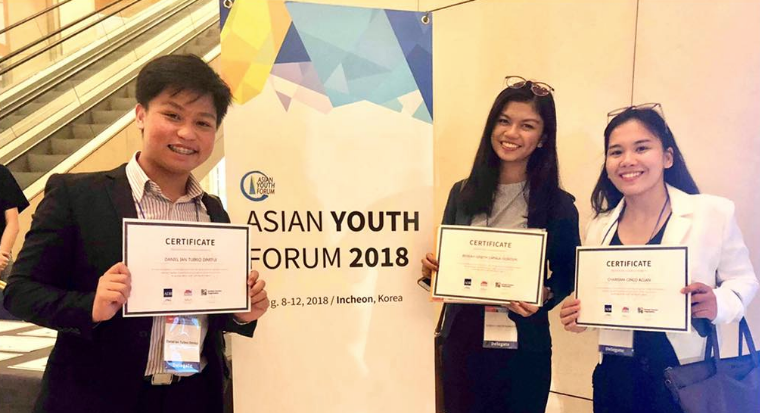 The Youth Exchange was co-hosted by Urban Youth Academy, Asian Development Bank, and Hanyang University. APYE is an international exchange program for the youth of ASEAN nations which aims to empower the youth to drive the Sustainable Development Goals into action and maximize their potentials to be the change-makers of this world. The youth delegates pondered about fundamental, structural, and sustainable solutions that could be implemented for the near future.
The activities in APYE consisted of the Asian Youth Forum, where the 200 delegates from 25 different countries made the Youth Declaration on the Future of Work. Although the delegates came from different countries, they were able to express their shared visions and missions and made an exceptional youth declaration thus, highlighting the beauty of diversity. The delegates learned to use Arduino, an electronic prototyping platform for building digital and interactive objects and SketchUp, a 3D modeling computer program to help them design their prototypes and have it 3D printed. The program also consisted of local immersion where the delegates had to seek out problems that the local community faced. The end goal of the program is for the delegates to come up with sustainable solutions and to innovate products that will be beneficial to the community. APYE activities have challenged the capabilities of the youth delegates, maximized their potentials, and allowed them to use their voices in order to fulfill their roles as the change-makers of this world.