The Faculty of Arts and Letters celebrated its 125th anniversary this academic year. With the theme: Life, Love, Lore: Brimming Full, it hosted numerous activities beginning in April 2021 to April 2022. The celebration began with a mass officiated by the former regent, Rev. Fr. Rodel E. Aligan, OP and Rev. Fr. Christopher Jeffrey Aytona, OP, an alumnus of Arts and Letters. The various departments hosted local and international conferences in fully digital format, webinars, academic lectures, memorial lectures and professorial chair lectures.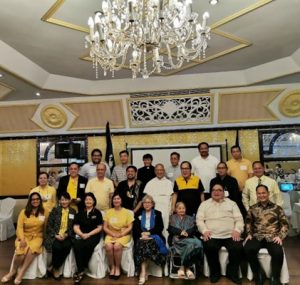 The celebration ended with the Alumni Fellowship organized by the UST Philets and Artlets Alumni Association which included a tribute to the former deans and regents who all contributed significantly to what Arts and Letters is today.
The former deans who were honored were: Prof. Magdalena Villaba, PhD (1976-1987), Prof. Milagros V. Munoz, MA (1987-1990), Rev. Fr. Virgilio Ojoy, OP (1990 1st Term), Prof. Belen L. Tangco, PhD (2003-2006), and Prof. Michael Anthony C. Vasco, PhD (2009-2019). As for the regents, the following were given special recognition: Rev. Fr. Rolando V. dela Rosa, OP (1983-1984), Rev, Fr. Efren Rivera, OP (1982-1983; 1988-1990), Rev. Fr. Joseto Bernadas, OP (2007-2015), Rev. Fr. Virgilio Ojoy, OP (1990-1991); Rev. Fr. Rodel E. Aligan, OP (1991-1997; 2007, 2015-2021).
The Faculty of Arts and Letters partnered with the UST Philets and Artlets Alumni Association headed by Dean Henry Tenedero for this culminating activity which took place at the Club Filipino in Greenhills on April 24, 2022. Part of the program were the re-launching of the AB Leadership Competency Map, a project of Artlets Batch '69 headed by Ms. Eyra Umali and Ms. Tita Puangco, a relaunch of the Adopt-an-Artlets Scholarship Fund headed by Mr. Oscar Picazo of Batch 1978, and a relaunch of the AB Promotional Video which highlighted all the achievements of Arts and Letters through the years.
The Alumni Association announced that a grand alumni homecoming is scheduled on February 18, 2023 to allow the other alumni and batches to participate more actively, with the hope that the situation in the country continuously improves. The event is spearheaded by the Golden Jubilarians Batch 1973.