Student achievers from the University of Santo Tomas were conferred distinctions at the annual Student Awards Day held on May 26, 2023, at the UST Quadricentennial Pavilion Arena. It was also streamed live via the UST Facebook page.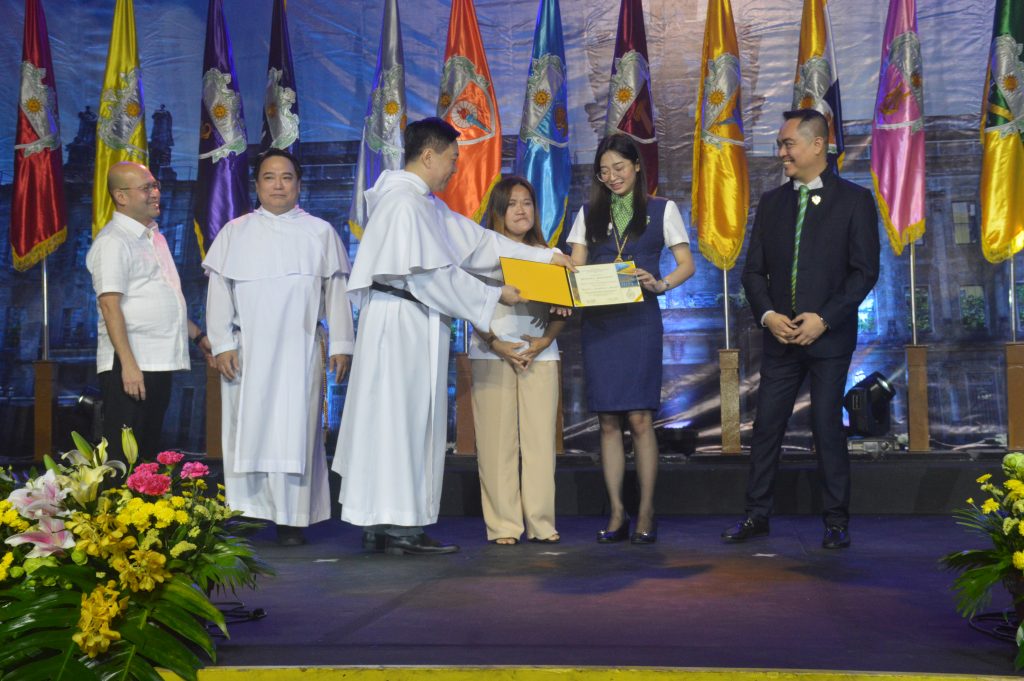 UST Rector Very Rev. Fr. Richard G. Ang, O.P., Ph.D., commended the awardees, saying "Your achievement is a testament to your dedication to learning and desire to grow in knowledge and wisdom. It is the reflection of the gifts God has given you and the responsibility to use these gifts to make a positive impact in the world."
Serving as the guest speaker was Dr. Adrian Paolo Laurel, a practicing dermatologist, who earned his Bachelor of Science in Nursing degree from UST in 1994. In that same year, he passed the Nurse Licensure Examination and enrolled at the UST Faculty of Medicine and Surgery. He earned his Doctor of Medicine degree in 1998 and went on to have his medical internship at the UST Hospital. In 1999, he took his board exams and successfully finished 16th place for the Physician Licensure Examination.
Laurel shared how he juggled academics and sports during his time as a student who took up both nursing and medicine. He was a member of the UST Men's Volleyball Team from 1991 to 1996—completing his five-year UAAP eligibility. He was a member of two champion teams, a two-time MVP in the UAAP Men's Volleyball, and was awarded the UAAP Scholar-Athlete Award in 1996.
Laurel emphasized three key words – humility, tenacity, and service. As students grow in their professional life, he reminded them to be humble without being timid, to be tenacious despite challenges, and to serve where we are needed.
"You've spent maybe four, five, or maybe ten years in the university. The life you will have after that is longer as alumni. Please don't forget what you learned here. Please don't forget the love that UST, its faculty, its students, and its administration have shared with you," said Laurel, whose parents, wife, and son are also proud Thomasians.
The top academic achievers from the 18 tertiary and post-baccalaureate academic units received the Rector's Academic Award, conferred by the Father Rector Very Rev. Fr. Richard G. Ang, O.P., Ph.D., assisted by the Registrar Mr. Cesar Velasco. The valedictorian for the Class of 2023, who achieved the highest general weighted average of 1.019 among more than 9400 students, was Ricalyn C. Shimosawa from the College of Tourism and Hospitality Management.
Delivering the response on behalf of the student awardees, Shimosawa acknowledged the difficult journeys each one has undertaken to succeed. "I know that you, my fellow student awardees, have encountered similar struggles, and have displayed remarkable resilience and determination along your own paths to success. This is why we are here on this momentous occasion, the academic awarding of our esteemed university, serves as a testament to the dedication and unwavering commitment that we have demonstrated throughout our academic journey."
Shimosawa also emphasized the value of hard work, saying "I know that we can achieve anything we set our mind to, as long as we are willing to put in the effort."
Nine exemplary officers of recognized organizations received the Quezon Leadership Award for their service, including Ma. Anci Ysabel Talamayan, who served as the National Auditor of the Federation of Junior Chapters of the Philippine Pharmacists Association.
The Pope Leo XIII Community Development Award was given to five students and five organizations for their outstanding involvement in community development. Among the recipients was Alyssa Louise L. Sampedro from the College of Rehabilitation Sciences, who implemented the Disability Inclusion Disaster Risk Advocacy Project.
Three individuals and twelve groups received the Benavides Outstanding Achievement Award, which is given to students who have academic or scientific accomplishments of national or international significance. The awardees include a group from the UST-AMV College of Accountancy, namely, Benjamin Amper IV, Joshua Jacob Andres, Mary Khristine Cabuslay, Mary Darlene Ebora, Ma. Cherrie Dee Gonzales, Danica Erra Largo, Angelica Rosh Ramos, Rhamuel Johnber Ramos, Jojo Santos Jr., and Cheri Alexa Tang. They were named Grand Winner (National) of the Information Systems Audit and Control Association (ISACA) Academe I-CO Competition
Seven groups and 31 students received the Pope John Paul II Outstanding Achievement Award for excelling in sports and the arts. Among the recipients is the Women's Beach Volleyball Team and Men's Judo Team for being the 5-peat UAAP Champion. They also received the Tradition of Excellence Award since they brought home the Championship for five consecutive years.
The St. Dominic de Guzman Award was given to two organizations that held activities of significance to the entire University. This included the UST Red Cross Youth Council (RCYC) Pharmacy Unit, which organized a blood donation drive.
Twenty-four individuals and 30 groups received the St. Albertus Magnus Award for excelling in research. Among them was Marri Jmelou Roldan from the Graduate School, who published five research papers.