College of Architecture faculty members Ar. Ramil Tibayan and Ar. Caryn Paredes-Santillan, Ph.D., successfully completed the course 'Introduction to Conserving Modern Architecture' organized by the Getty Conservation Institute and the National Center for Preservation Training and Technology. The training was attended by design and conservation professionals from 23 countries with a view toward gaining basic knowledge for the conservation of modern buildings.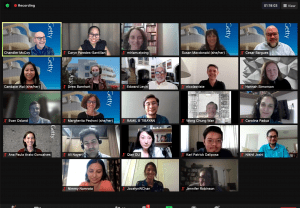 The course, composed of synchronous and asynchronous sessions held online via Zoom, included an introduction to conservation principles and methodology, deterioration, and conservation of common modern materials. Also included in the course was discussion of conservation tools and the application of historic thematic frameworks such as the Twentieth-Century Historic Thematic Framework developed by the Getty and ICOMOS ISC20C.
A broad discussion of the investigative and diagnostic work of modern materials, and the repair processes, were also incorporated. Aside from the lectures and readings, the month-long course also involved presentation of individual case studies and participation in twice-weekly live discussions. The culminating activity consisted of a case study of the Mill Owners' Building in Ahmedabad, which was designed by Le Corbusier. The participants were provided with lectures that discussed the building's background information, history, architecture, and current conditions.
During the live session, they were asked to comment on the building's significance, opportunities, issues, and threats, as well as come up with general design guidelines and policies for conservation. "The lectures were really fascinating, and it was a treat to interact and learn from the pioneers of modern built heritage conservation," said Paredes-Santillan, adding that, "I was also glad it gave us a chance to show examples of modern architecture in the Philippines. They were really blown away by the Cultural Center of the Philippines Theater of Performing Arts." The Theater of Performing Arts at the Cultural Center of the Philippines in Pasay City was designed by National Artist for Architecture Leandro V. Locsin, an alumnus of the UST College of Architecture.