The Office of Public Affairs (OPA), in partnership with Unilab, will hold the 6th installment of Media Leadership Lecture Series on November 28, 2023, 1 p.m., at the Dr. Robert Sy Grand Ballroom, 2/F of Bl. Buenaventura G. Paredes, O.P. Building.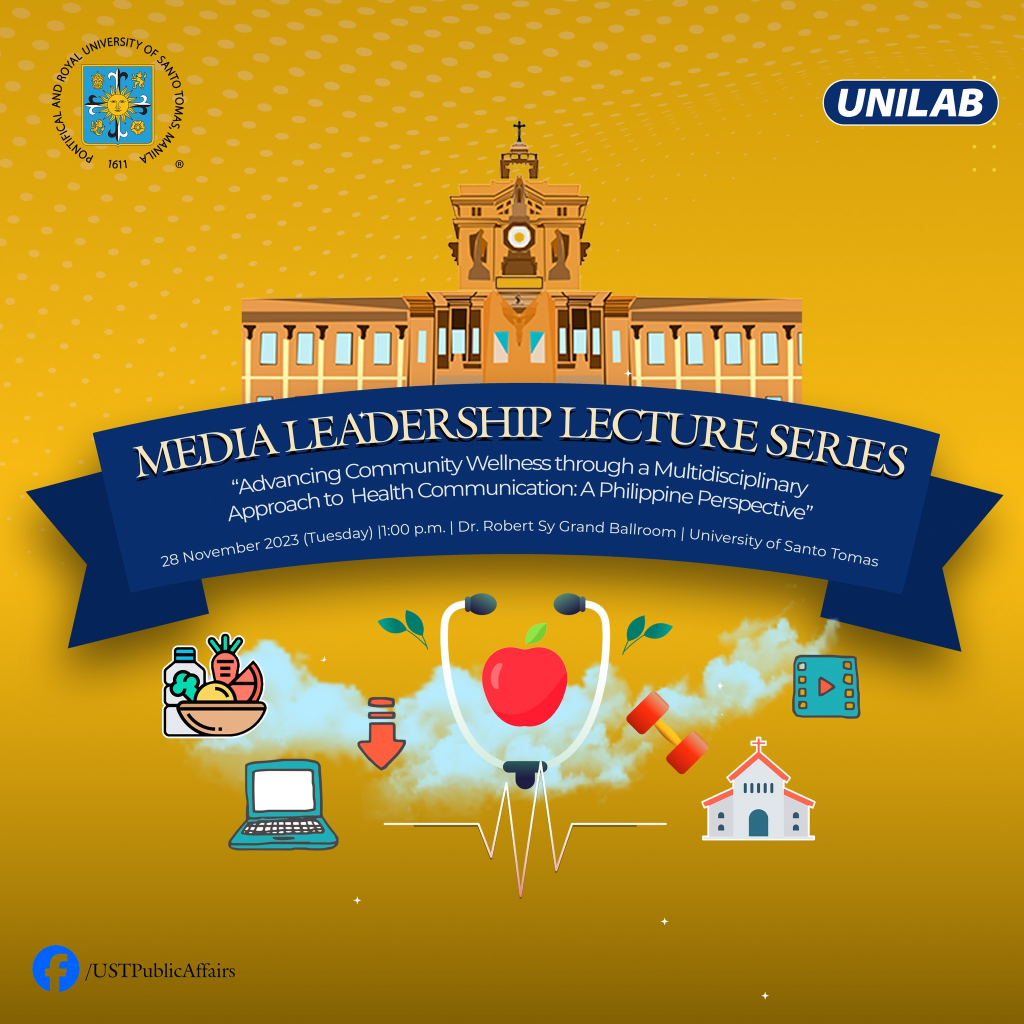 With the theme "Advancing Community Wellness through a Multidisciplinary Approach to Health Communication: A Philippine Perspective", this lecture series gathers experts, practitioners, media personalities, and advocates to weave and to share their insights on wellness and communication through a multi-sectoral approach.
The lecturer for this event will be Mr. Ruben Basa, Operations Director of Mount Grace Network of Hospitals and General Manager of Fe del Mundo Medical Center. Mr. Basa will talk about "The Practice of Health Communication in the Philippines".
A panel discussion will follow the lecture and it will gather insights from Mr. Basa; Prof. Consuelo G. Suarez, MD, PhD, FPARM, Supervisor of Research Center for the Health Sciences; Ms. Kristine Bernadette Sasi, Executive Producer of MedTalk Health Talk – CNN Philippines; Mr. Winston Creones "Dr. Kilimanguru" Tiwaquen, Medical Doctor and Educational Content Creator for Education; and Ms. Jing Castaneda, Journalist, Columnist, and Health Advocate. They will talk about "Advancing Community Wellness through a Multidisciplinary Approach to Health Promotion".
This lecture series aims to:
1) Enhance the understanding of the audience on the holistic concept of health communication and its value and relevance in the Philippine setting.
2) Increase the awareness of the participants on the various approaches and practices used by individuals and organizations to effectively implement different types of wellness programs in their respective communities through various media platforms.
3) Empower and encourage the audience to initiate projects that are creative, laymanized, and multisectoral in approach for the application and appreciation of the members of the Thomasian Community and general public.
This event will be livestreamed on the Facebook page of OPA. The onsite event will also be open to the Thomasian Community.