Marked by the "promotion and renewal of the Filipino Christian life through Christ, with Christ, and in Christ" (PCP II, XXIV), the Second Plenary Council of the Philippines (PCP II) was held in Manila in 1991, thirty years ago, with Most Rev. Leonardo Z. Legaspi, OP, DD, the First Filipino Rector of the University of Santo Tomas, as its Conciliar President.
In line with such milestone, the UST Graduate School – Theology Cluster, the UST Center for Theology, Religious Studies and Ethics, and the UST Institute of Religion organized the 6th Archbishop Leonardo Z. Legaspi, OP, DD Memorial Lecture with the theme: "The Lights and Shadows of the 30 Years of the Second Plenary Council of the Philippines" in celebration of the 500th Anniversary of the Arrival of Christianity in the Philippines.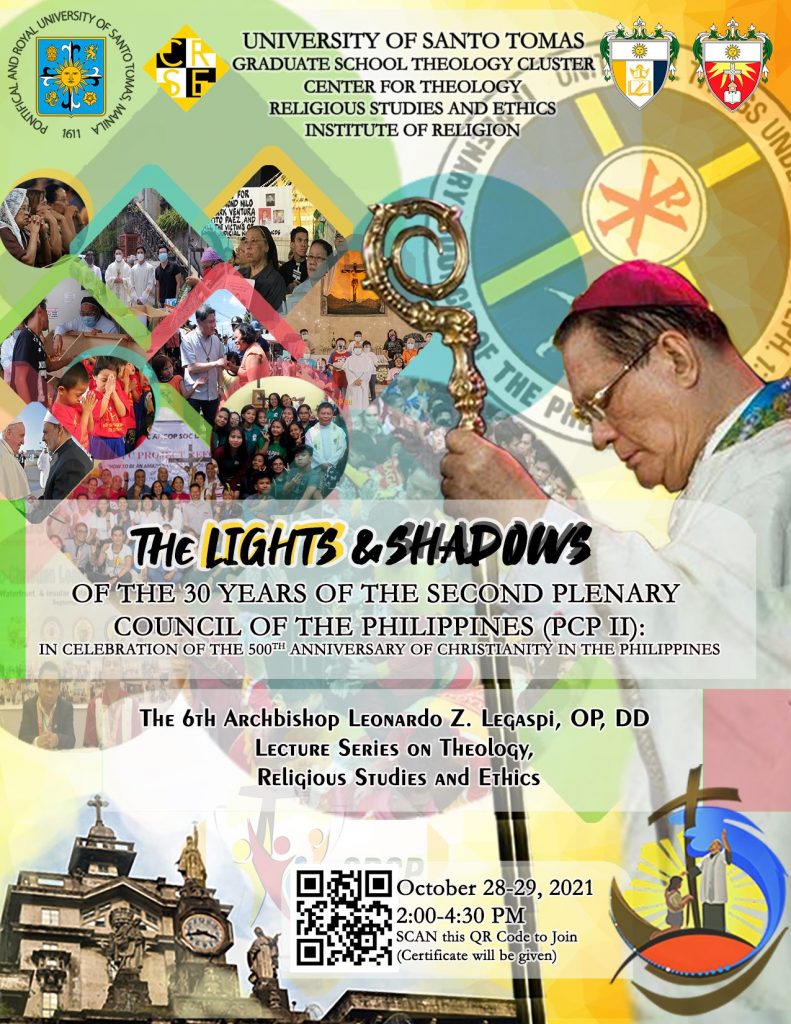 This two-day conference will focus on the renewal of the Church in the Philippines, embodied in the Church of the Poor, Basic Ecclesial Communities, and Dialogue with Muslims and Indigenous peoples. It will be held virtually on 28-29 October 2021 (Thursday and Friday), 2:00 pm to 4:30 pm, and will be live-streamed via the UST's
official Facebook page.
The Thomasian community is invited to participate and may register through this link: https://bit.ly/LegazpiLecture2021 or through the provided QR code.