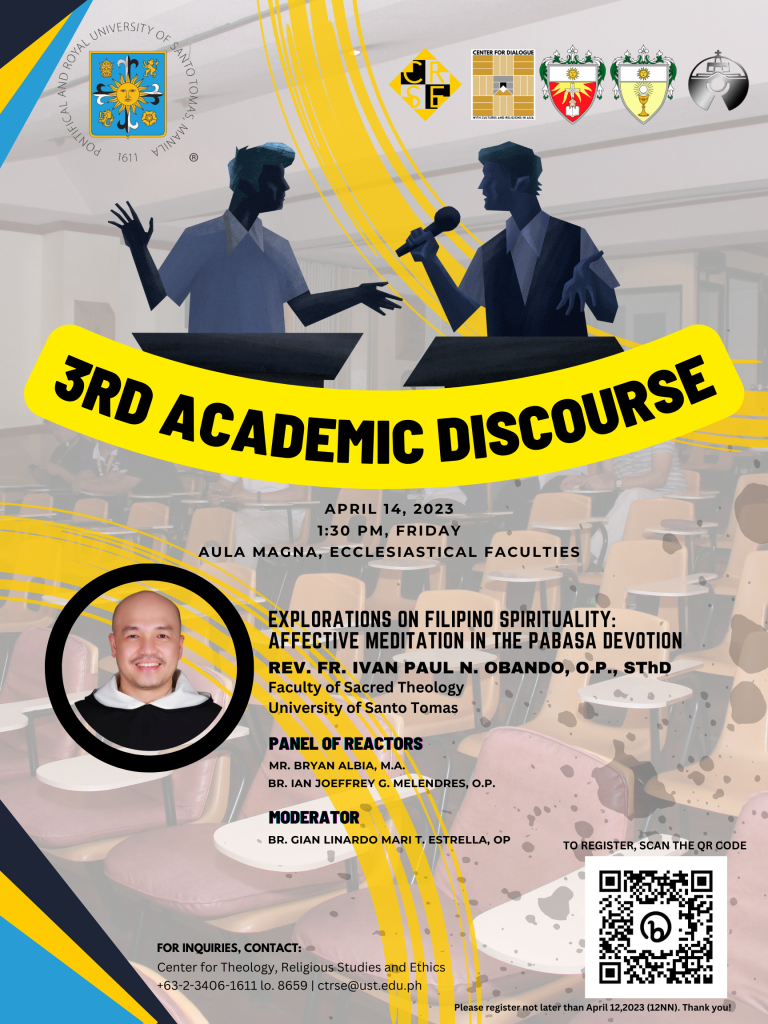 3rd ACADEMIC DISCOURSE
Explorations on Filipino Spirituality: Affective Meditation in the Pabasa Devotion
Rev. Fr. Ivan Paul N. Obando, OP, D.Th.
The lecture will explore a new perspective on one of the unique and enduring manifestations of Filipino Spirituality, which is that of the Lenten Pabasa Devotion. It will expound on the notion that the Pabasa devotion promotes an affective meditation on the Suffering Christ. Three related areas will be explained in exploring this perspective. First, the concept of Filipino Spirituality as landas ng pagpapakabanal and the role of popular devotions in spiritual life shall be explored. Second, the lecture will also expound on the general notion and qualities of affective meditation in Christian tradition. And third, the lecture will present literary qualities in the pasyon text and some experiential testimonies of Pabasa devotees that would indicate the promotion of affective meditation on the Suffering Christ in the Pabasa devotion. The qualities that accurately make the Pabasa devotion an affective meditation on the Suffering Christ are seen in its capacity to inspire the imagination and to arouse affective responses in the devotees. With this new perspective on the Pabasa devotion, it is also hoped that a new way of appreciating Filipino popular devotions would commence.
The Academic Discourse series is originally meant to feature the inaugural lectures of professors in the Institute of Religion and the Ecclesiastical Faculties, and researchers affiliated with CTRSE, who have recently earned their Doctoral degrees. It has evolved to be a venue also for experts and other scholars who are either currently doing or have completed research on a topic that relates to the agenda of the Center for Theology, Religious Studies and Ethics.